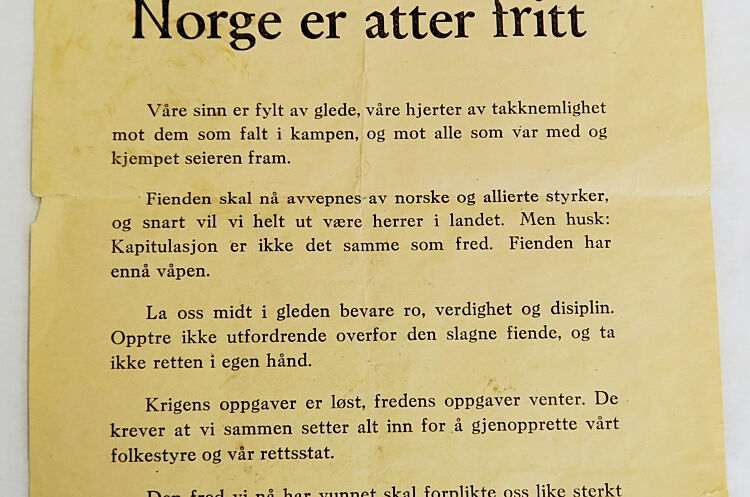 Object of the month: Victory proclamation from May 8th, 1945

"From the leaders of the Norwegian Resistance:
Our fight is crowned with victory
Norway is free again"
Paal Berg, the leader of the Norwegian resistance, wrote this proclamation at May 7th, 1945. 200 000 flyers, such as this one, was spread around in Norway May 8th, to inform the citizens that Germany had capitulated. In the text, he was urging people to keep their calm and dignity and not to act violently towards the beaten enemy: "Do not take the law into your own hands."
The final words of the proclamation is:
"Together we will re-build our country as a better, richer and happier home for everyone. God bless our precious Fatherland!"
It was Åsta Østlyngen from Alta who picked up this flyer in Jeløya (south of Norway), at May 8th, 1945. She, and the rest of her family (husband and five children), was evacuated by force from Finnmark by the Germans November 7th, 1944 – along with thousands of others. The following months the German soldiers burned down almost everything they could find in Finnmark and Nord-Troms, to keep the Russian army from making use of the resources there (11 000 houses, 4700 sheds, 106 schools, 27 churches, 21 hospitals, 22 000 communications lines, roads, boats, and animals killed.)  Åsta and her family moved back to Alta when the war was over and took the flyer with her as a keepsake from the day "peace broke loose."   
Anne Klippenvåg Pettersen - curator