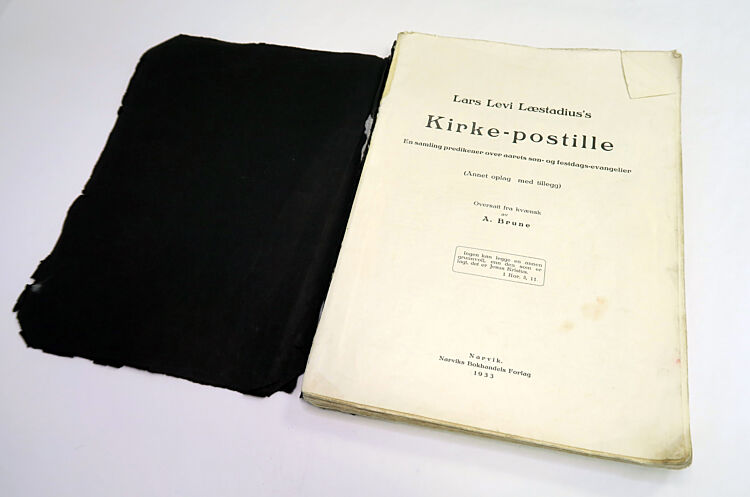 Object of the month: Postil by Lars Levi Laestadius

Sermons on the Gospels for Sundays and Principal Festivals of the Church-year
Lars Levi Laestadius' Church Postil was first published in the year 1900, while Alta Museum's edition was published in 1933. A postil is a collection of sermons on the gospels for the church year, meant to be read aloud during church services and congregations. House postils were intended for home use. The word postil comes from the Latin post illa verba textus, meaning after these words. Our postil was donated to the museum in 2017 and appears to have been in heavy use, since its edges are frayed and the front has been torn off.
Lars Levi Laestadius (1800-1861) was a Swedish-Sami pastor and botanist, famous for founding the pietistic revival movement Laestadianism. Laestadius worked primarily in Norrbotten in Sweden, and Laestadianism was founded in 1844 during his time as a vicar in Karesuando. Laestadianism is strictly Lutheran with firm demands for piety, and the movement quickly became popular in Norrbotten and Østerbotten. Laestadianism arrived in Norway in the late 1840s and Norwegian Laestadians today number around 50 000.
Lars Levi Laestadius' Church Postil  was originally titled Kirkkopostilla and it was translated into Norwegian by A. Brune. Laestadius wanted people to be able to practise their religion in their mother tongue, and for this purpose published the Bible history in Sami in 1844. In Northern Norway, this meant that Kven and Sami Laestadians often held their congregations in the worshippers' mother tongues or with the help of simultaneous interpretation. Postils and other religious books in Finnish and Sami were also common.
Lena Karlstrøm - Curator