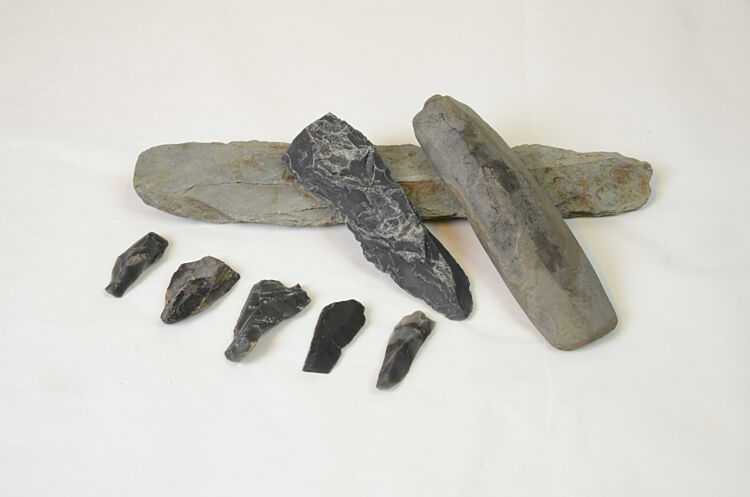 Object of the month: Nummedal's Legacy

Anders Nummedal (1867 – 1944) was a trained geologist working as a lecturer in Kristiansund. While investigating shorelines from the past he noticed objects made out of flint. Nummedal, with the help of archaeologist Karl Rygh in Trondheim, tied the objects to prehistoric human settlements. Nummedal continued to explore systematically the prehistoric shorelines in the area. This resulted in the identification of the Fosna culture.
Nummedal reckoned that the premise of prehistoric human settlements along ancient shorelines also had to be valid in the northern parts of Norway. In 1925, he arrived in Finnmark and did his first excavations in Langfjorden. Here he identified the first official findings from the Stone Age of Finnmark. He traveled further into the Alta Fjord and conducted excavations at Elvebakken, Stenseng, Tollevika, Bossekop and Hjemmeluft. He found localities on all sites and his fieldwork produced the material which later was coined the Komsa culture. The identification of the Stone Age this far north claimed international attention and Nummedal became a central figure in archaeology.
Both the Fosna culture and the Komsa culture were established terms well into the 1990s. Even though several of Nummedals theories have been modified today he still stands out as one of the most significant contributors to Norwegian archaeology.
These artifacts are only a minor sample of all the magnificent findings Nummedal did. They have their permanent residence at the Museum of Cultural History in Oslo as a part of the Collection of Norwegian Antiquities, but is currently on long term loan to us in Alta.
1)    Coarsely flaked spearpoint made of flint. Found in Hjemmeluft
2)    Coarsely flaked chisel made of slate. Found in Langfjorden
3)    A gouge made of slate. Found at Elvebakken
4)    Lithic flakes with retouch. Arrowheads? Found in Tollevika
Written by Rune Normann, archaeologist