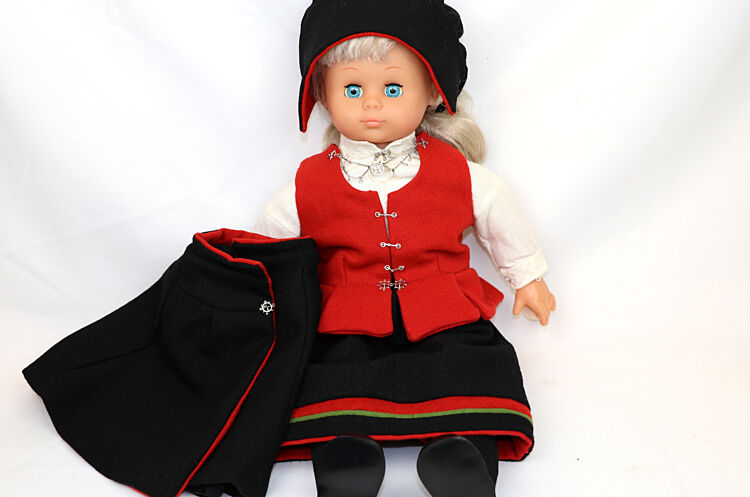 Object of the month: Doll

Doll
In May, we are displaying a doll dressed in a bunad from Finnmark, sewn by Margareth Synnøve Opgård. Bunads are folk costumes commonly used for festivities, like the Norwegian Constitution Day on May 17. This doll was donated to an annual televised charity event, from where it was purchased by Alta Museum and Statoil. 
Around 1950 the Norwegian Folk Art and Craft Organization in Finnmark started working to create a Finnmark bunad. An old woman's shirt at Tromsø Museum provided inspiration for the bodice. Since they did not know of any existing embroidery tradition, the choice was made to keep both bodice and skirt devoid of embroidery. 
This doll has a black skirt, cape and cap with red and green decorative ribbons. The Finnmark bunad is also available in blue, though always with a red bodice. The linen shirt has embroidery inspired by woven ribbons on kommager, traditional shoes used in Finnmark. The jewellery was designed by the artist Iver Jåks and produced by Juhl's Silver Gallery in Kautokeino. Inspiration was provided by an archaeological find from Årøya near Alta, which belongs to the collection of Tromsø Museum and can currently be viewed in Alta Museum's exhibitions.
Written by Lena Karlstrøm, curator