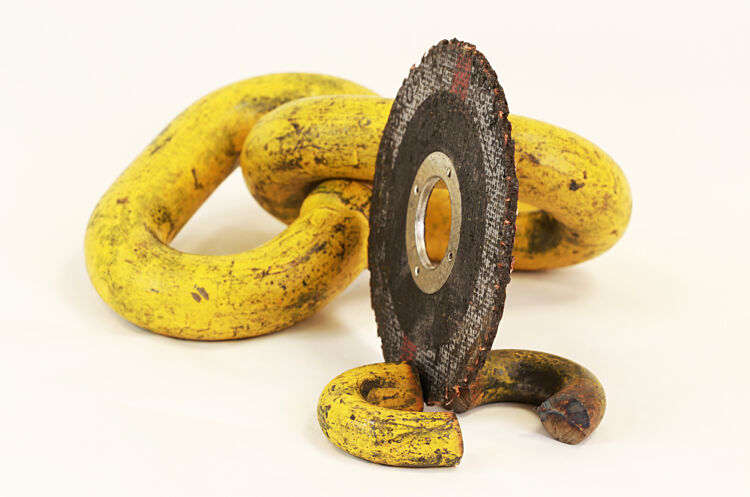 Object of the month: Angle grinder used in Stilla, January 14th, 1981

Angle grinder used in Stilla, January 14th, 1981
Angle grinders have never been used under more dramatic circumstances in Norwegian history, than during the events in Stilla, Alta on January 14th, 1981. The fight against the construction of a hydroelectric power plant in the Alta-Kautokeino river had by then lasted eleven years. In -30°C, the protest movement had established a massive tent camp in Stilla by the Alta river. The protesters locked themselves with chains and iron claves, obstructing the construction of the road to the future dam. On the ship "Janina" in the Alta bay, an army of policemen were getting ready for action.
In his book "Altakampen – Miljøkampens største folkereisning" from 2019, Alfred Nilsen, the leader of the protest movement, describes the mood and the feeling of powerlessness after the protest.
"The ones in chains and claves were volunteers. We asked them if they wanted to be replaced before the police started cutting the chains with angle grinders. We could see that some were struggling, though no one asked to be let go. The mood became gloomy and grim, and when some protesters started crying in secret, we offered to find replacements for them. There was no problem finding others to take their place.
I can still feel the sinister mood of that day even today, 38 years after the fight culminated in Stilla in January 1981. That feeling of powerlessness against a police army of 600 men, sent by the government to Alta to implement the development of a hydroelectric plant. Most of the statutory preliminary investigations for the development were lacking, and the few that existed were faulty. It was a shocking example of deficient investigation before work was to be commenced."
Written by Kristin Nicolaysen, museum lecturer