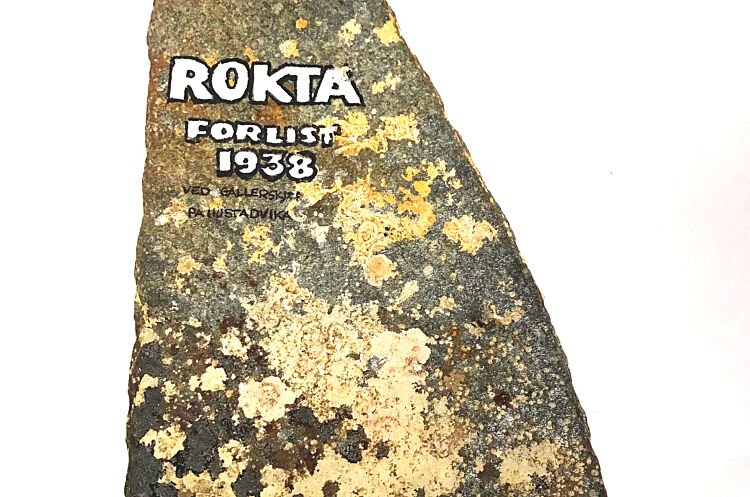 Object of the month: Slate slab from a shipwreck

"There came a message from Bjørnesund:
This night a ship has run aground…" 
Arnulf Øverland – Sjøfolkene på Hustadvika
The object of the month is a slate slab which was on board one of Norway's most famous shipwrecks. On 30th March 1938 the cargo ship, D/S Rokta, sailed from Alta fully laden with slate bound for Scotland. A powerful storm blew up, and at 03.15 during the night of 3rd April the Rokta foundered on a rock at Gallerskjera in Møre og Romsdal. Without any radio contact it took a long time before they were able to communicate with boats in the area and tell them there were people alive on board. While the ship was taking in water the crew of eleven were holed up in a small cabin on the deck. The lifeboat had been lost in the storm along with one of the crew. The captain said to his men: "The only thing we have now is our faith in God." The fate of the eleven men hovered between life and death for 36 hours. A hundred men were involved in the rescue operation. Only six of the twelve-man crew survived. Two of the rescue team died.
This is one of Norway's most famous shipwrecks, mainly because it was the first rescue operation people throughout the country could listen live over the radio to what was happening. The whole of Norway sat glued to the wireless following the drama live, as the rescue boat Christian Bugge and fishing vessels struggled desperately to save the stricken crew. Deeply moved by the event, the poet Arnulf Øverland wrote "Sjøfolkene på Hustadvika":
"…All they could do was sit helpless,
    Waiting and waiting for every single minute
    Till the waves would come and put an end to them."  
This slate slab was a part of the cargo which never reached Scotland. We have no information as to when or how it came to our collection, or who has painted on it. But we know that it conveys a strong history.
Anne Klippenvåg Pettersen - curator