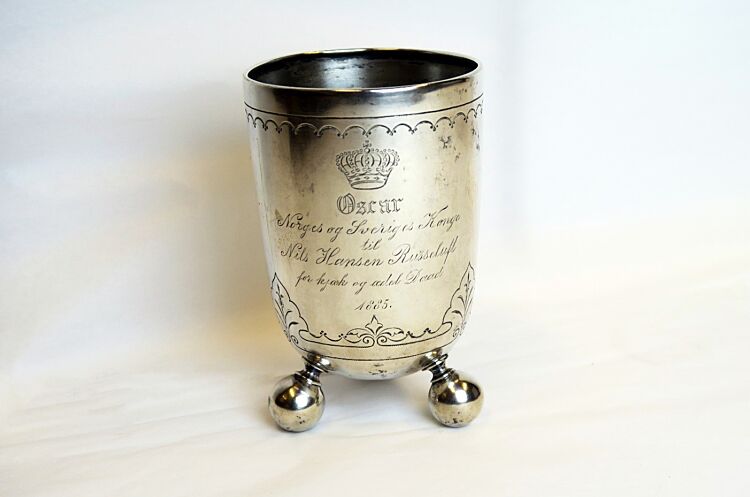 Object of the month: Silver trophy with handwritten note

"Oscar, king of Norway and Sweden. To Nils Hansen, Russeluft, for brave and noble deed 1885".
This month's object is a royal silver trophy given as reward for a local act of bravery. From the inscription and the accompanying handwritten note, we learn that king Oscar II gave this trophy to Alta natives Nils Hansen and his 18-year-old son Hans Johannes Nilsen in 1885, for saving 30 men from an ice floe. Author of the note is Haakon Nilsen, son and grandson of the two rescuers, and this note is the only known recount of this dramatic rescue mission.
The silver trophy was passed along to the oldest child of the family for generations until Laila Irene Johansen, great-grandchild of Nils Hansen, donated it to Alta Museum. She had received it in the late 1970s from Haakon Nilsen, who by then lived in Canada where he emigrated with his father in 1911.
The text is based on Martin K. Hykkerud's contribution to Alta Museum's Christmas calendar in 2009. If you have any further information about this heroic deed, please contact Alta Museum at +47 41 75 63 30 or post@altamuseum.no